Nice to see that at least they're not even trying to hide their puritanical-Nanny-state-I-Know-What's-Best-For-You elitism anymore behind bullshit like "second-hand smoke" or lower costs in health insurance (which, by the way, even after all the smoking bans, never happened).
Except they're not being totally honest. If this "ethicist" (hey! can I get paid to tell other people how to live their lives?) and his kind were truly ethical, honest people, they/he would admit that, eventually, the best social tool to motivate people to change their lives is a gun.
Sure, shaming has proven to turn millions of non-believers into god-fearing folk in the last two thousand years. But, gosh-darn it, there are always those pesky Hester Prynne types who just can't get with the program and don't understand progress no matter how many scarlet letters we pin to their gowns. Come on, people! How can you be against this? Are you stupid or something? It's like all those crazy disgruntled lone individuals who are pissed about being forced to buy health insurance. Jeeze! What a bunch of morons! We're trying to help you! You know, and we know you know, that smoking and eating dirty, filthy foods are bad for you, your children, and the planet. So, get with it, conform and obey already, you neanderthals!
Anyhow, like all state-programs, if this stuff is realized through local, state or national legislation--which I expect it will be, in time--guns and violence will be used to enforce it. If you want to shame people for being fat, through taxation or social exclusion, then you're going to have to use police-force to do so. That which is not voluntary is coercion. Whoops! Just busted you're entire fetish of "the social contract" in two sentences. Really, it's articles like this that compel me to eat Jack-in-the-Crack all day, puff a pack of Reds, and litter in front of the Mayor's office.
At least this guy gets it:
"No amount of teasing, probing questions about what they wish they could do, or medications seem to help," Dr. Tom Inge, a childhood obesity expert at the Cincinnati Children's Hospital Medical Center, told NBC News. "So if one is
proposing to help them by more stigmatization
, that would seem at once both antithetical and unethical."
Yep. It's not anti-ethical, of course, if you're a megalomanic hell-bent on controlling the entire world. And the last line of the article is a riot:
"We need to fight obesity, not obese people."
Right. ("We hate the sin, not the sinners.")Wonderful use of sophistry. Now tell me what you think--how you truly feel--about smokers. I'm betting the best thing you can force yourself to say about them is that they're stupid, selfish dolts.
(Also, social exclusion necessarily entails exclusion of people, of other real life human beings with feelings and dreams, something racial segregationists had a difficult time understanding as well not too long ago.) Just do this: Stop
lying. The only fat people here who deserve to be shamed are people like you. So, here's what I call for: shaming all intolerant control-freaks whose egos are so fat that they justify using state-force over other human beings they look down upon (for their own good).
I won't pretend this policy isn't directed at the Ego-piggies themselves. Here's a proposed political chant for our program: Shame the pigs! Shame the pigs! Shame the pigs!
The ego-pigs will never be allowed to go inside, anywhere. In fact, they will be forced into ghettos. And they will be forced to wear bright florescent pink Ps on all their shirts so we decent folk of civilized society can know who and where they are at all times. It's a small price to pay for the health and safety of society, for the greater good, and for the children. Eventually, when the time is right, we'll dispose of these people in mass numbers because, let's just be open about it, they're less than human, right?
There. I just prescribed exactly what this "ethicist" and his ilk are suggesting. Now, can I please collect my check from whatever asinine "policy center" this asshole works for yet?
The Nanny-State culture in the "land of the free" always reminds me of this Punk Rock oldie. Greg Graffin, as always, knows where it's at. Go suck it, Daniel Callahan. Peace.
"Best For You"
Above us lay the burdens, below us lay the truth.
We're somewhere in the middle, and we're all discontent too.
Is someone watching over you?
Inside they know what's best for you.
Judgment's not tomorrow, its today (yes now it's here).
But no it isn't Jesus, take a look at all your peers.
They're all looking down on you.
Inside they know what's best for you...
Everybody knows what's best for you [x8]
Original article:
'Fat-Shaming' Strategy Pushed By Bioethicist Daniel Callahan To Help Curb Obesity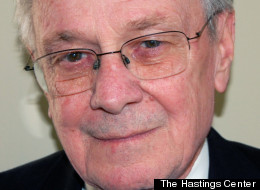 A prominent bioethicist is offering a controversial fix for America's obesity epidemic: "fat-shaming."
Callahan likens what he calls his "edgier strategy" to anti-smoking campaigns of recent decades.
Callahan continues, "Only a carefully calibrated effort of public social pressure is likely to awaken them to the reality of their condition. They have been lulled into oblivious-ness about their problem because they look no different from many others around them."
"For him to argue that we need more stigma, I don't know what world he's living in," Deb Burgard, a California psychologist specializing in eating disorders, told NBC. "He must not have any contact with actual free-range fat people."
Although Callahan might consider his idea new and edgy, fat-shaming has been used before -- and has failed.
The exhibit prompted an uproar online and was closed after three weeks.
"We know from communication research that when we highlight a health risk but fail to provide actionable steps people can take to prevent it, the response is often either denial or some other dysfunctional behavior," Marsha Davis, a childhood obesity prevention researcher at the University of Georgia's College of Public Health, told AboutFace. "We need to fight obesity, not obese people."